What our farm shop has to offer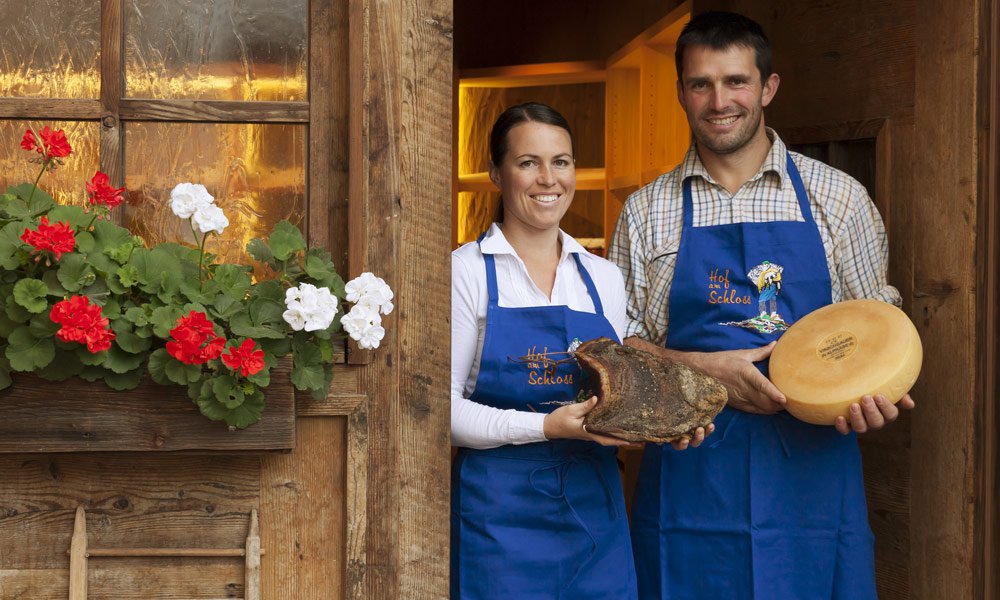 At our farm we make a wide range of products. The processed meat comes exclusively from our own animals. The processed fruits grow mostly at our farm, in order to guarantee a very high quality to the guests and visitors of our farm shop. It is no coincidence that many products carry the quality seal of Roter Hahn, which is re-awarded each year. An independent committee judges in a blind taste test the products to be evaluated. Even our fresh meat has got this seal of approval and so we are represented each year also in the brochure "Delicate food from the farm".
No fixed opening times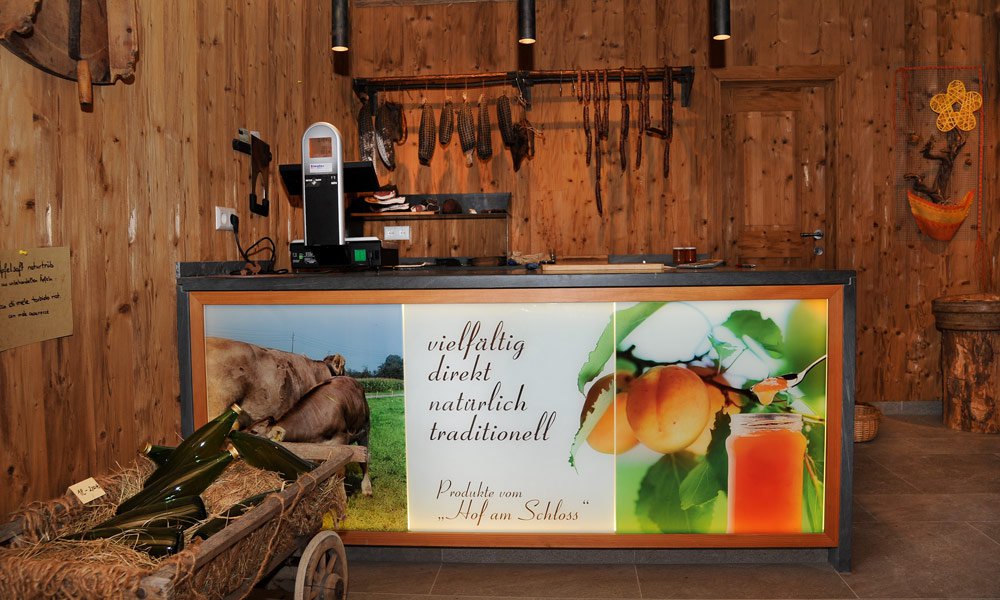 For our farm shop we have no fixed opening times. Since we only offer our home-grown products and these need first of all to be produced, the farm shop cannot be permanently staffed. Most likely we are to be found in our shop in the morning, at lunchtime and in the evening. However in the entrance area of ​​the farm shop there are a bell and our phone number. So we can be reached quickly. However, a prior telephone notice is even better.
And this is what we have to off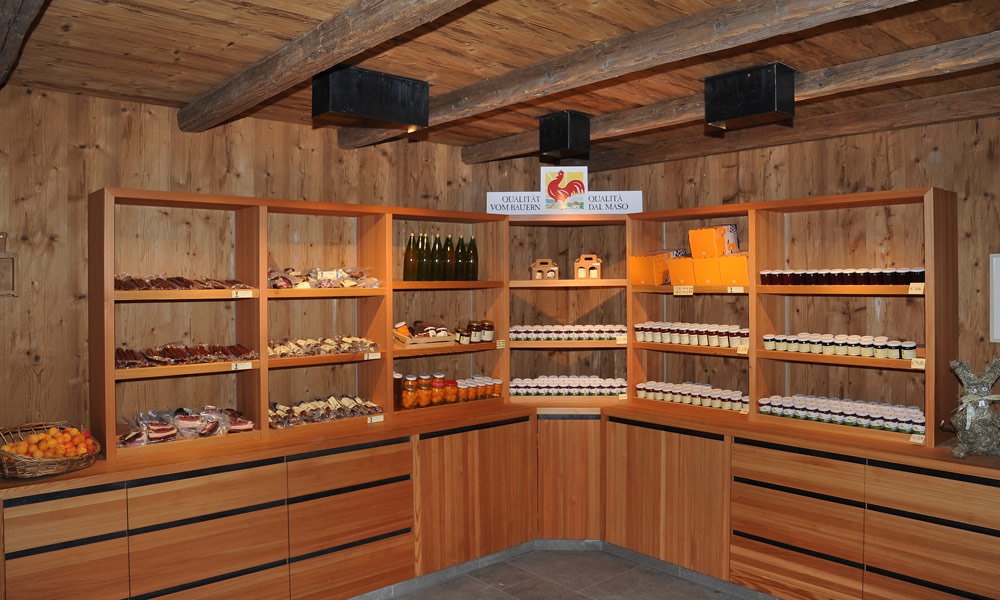 In our farm shop we offer a wide range of products. Already among meat and sausages products we have a nice selection of high quality products for you. These are:
Various packages of heifer calf meat and young cattle with and without bones, starting from 5 kg are available by reservation. We have always small quantities of frozen meat.
speck in different variants
Bündnerfleisch
Kaminwurzen
Bauernsalami
Different wild meat (seasonal on request)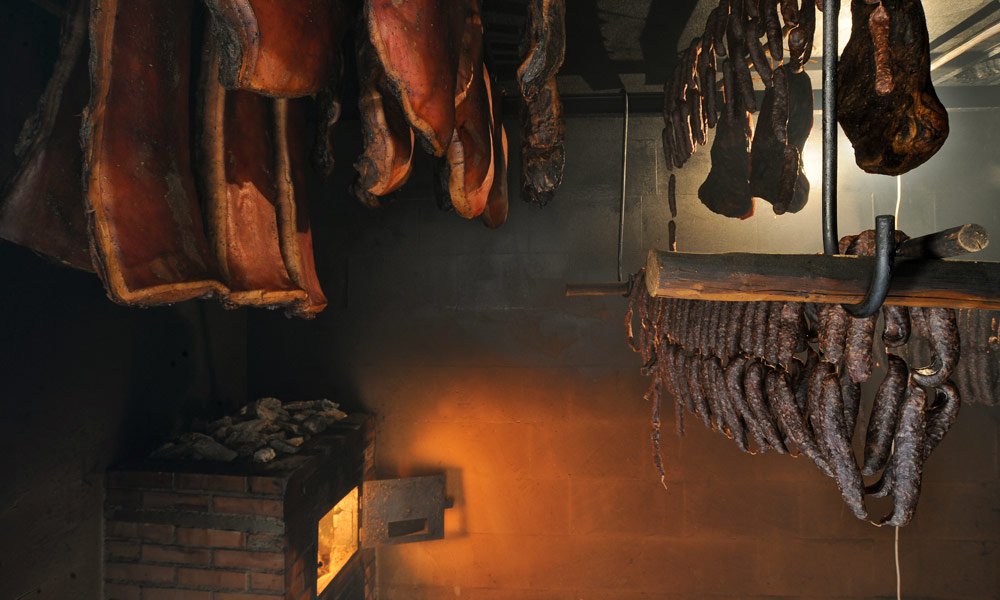 In addition to our meat and sausage assortment we offer different fruit spreads and jellies, which have received many awards from Roter Hahn. But we have in offer even own honey. The choices are among:
Vinschger apricot (fruit spread)
strawberry (jam)
raspberry (fruit spread)
quince (jelly)
currant (jelly)
blackthorn (jelly)
blossom honey
alpine rose honey
The offer of home-made products is complemented by milk products. You can acquire:
Alp cheese
mountain butter
It's important to mention that we offer in our farm shop also own apple juice. This comes from our completely untreated and therefore natural apples from our orchard, which is in front of our farm.
Our apricots, mainly of the variety Vinschger apricots, are harvested exclusively from our own trees. Smaller quantities can be collected directly at the farm. Larger amounts should be however pre-ordered. The main harvest goes from mid-July to mid-August.
Our guests can look forward to other minor crops from the early currants at the beginning of summer to the apples and "Palabirnen" pears harvest in later in autumn.
Fresh, unprocessed vegetables from our garden house are also available in smaller quantities throughout the summer months. They have a delicious taste, especially if you turn on the barbecue!
Here we are also represented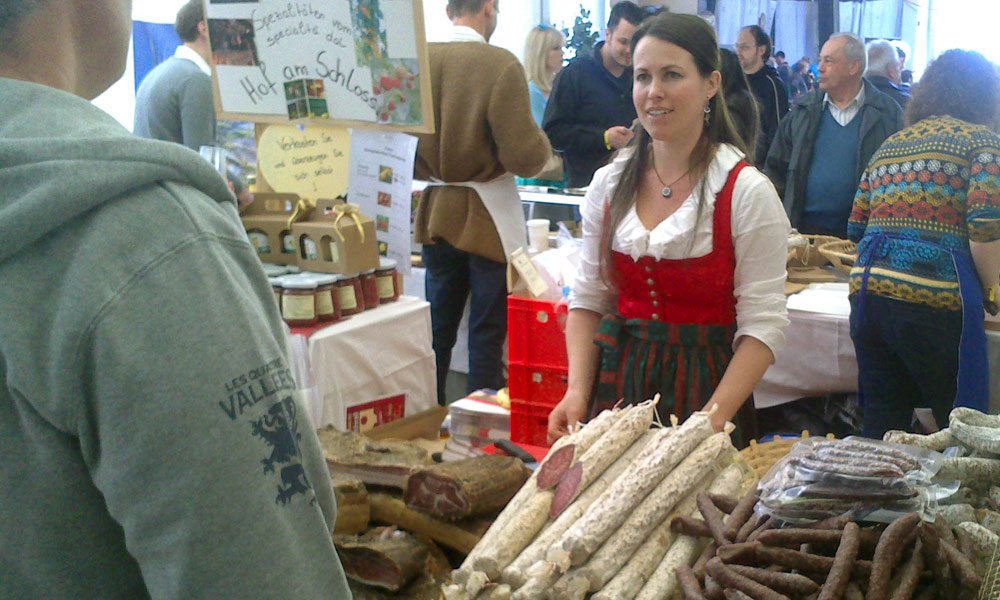 Besides in our farm shop our excellent products can be purchased in other locations. These are among others:
Weekly Farmer's Market Mals
Weekly Farmer's Market Schlanders
Arcades markets Glurns
Christmas market Glurns
Harvest Festival Bozen
Genussmeile Lana
Market in Schenna
Cheese Festival in Sand in Taufers
Bauernladen Mals
Vinschger Bauernladen
Ahrntal Nature
Pur Südtirol in Meran, Bozen and Bruneck
Various shops, which are supplied by Pur Südtirol
Finally we would like to point out our product logo, which is a little old man. This logo is dedicated to our farm labourer Lois; he is the last one in Lichtenberg, who has been offering a loyal service to our family for 50 years and has become a part of it. With this logo on our farm products we want to celebrate Lois for his loyalty in these decades.